Viglacera Float Glass company is honored for quality management
09:52 | 28/11/2017
NDĐT - On 26th November in London (UK), Viglacera Float Glass company was honored to receive the Diamond award "International Star for Leadership in Quality" year 2017 by BID.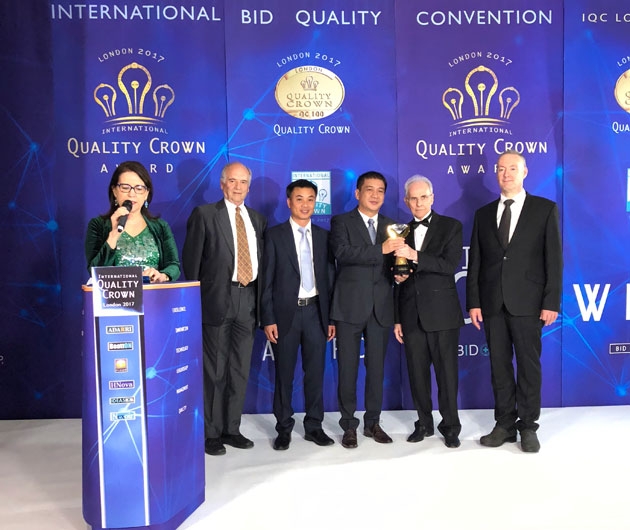 President and CEO of BID, Mr. Jose E. Prieto, presented the prize to Mr. Nguyen Minh Khoa, Director of Viglacera Float Glass company.
This is the third time Viglacera Floating Glass company has received the award from the BID (Business Initiative Directions). Earlier in 2014 in Paris (France), the company was awarded Gold for quality, excellent performance and technology. By 2015, the company continues to honor the Platinum Quality of International ERA Award in Geneva (Switzerland).
At the ceremony, Mr. Jose E.Prieto - President and CEO of BID said: Viglacera Float Glass company deserves to be honored for outstanding results in maintaining quality to develop new technology through each year. Viglacear brand has been confirmed in Vietnam and internationally and this is the important factor for BID to consider and award.
BID is set up by leaders from the top 90 countries in the world. This is an organization that works in the field of corporate communications with the goal of building reputation and branding for businesses through product quality assessment.
BID organizes vote programs and awards to businesses operating in various industries and sectors around the world every year. To be listed on BID's annual awards list, businesses must undergo rigorous review procedures by the ISLQ Selection Committee based on the criteria and principles of TQM QC100 such as customer satisfaction, communication strategy, benchmarks, information and data analysis, leader, planning and decision making, personnel, education and training, process and production, financial results, business results, ISO 9000 and TQM (Total Quality Management).
Therefore, Mr. Nguyen Minh Khoa - Director of Viglacera Floating Glass Company, said that under the pressure in the domestic market and opportunities for international integration, Vietnamese enterprises have only one way to develop is to continuously improve the management and services quality to reach out to foreign markets, bringing Vietnames brands to foreign customers.
KHẢI HOÀN
Link http://www.nhandan.com.vn/kinhte/item/34840802-cong-ty-kinh-noi-viglacera-duoc-vinh-danh-ve-quan-ly-chat-luong.html