Top 10 outstanding events of Viglacera Corporation - JSC in 2019
05:39 | 31/12/2019
2019 is recognized as a successful year of Viglacera Corporation - JSC with many outstanding achievements, helping Viglacera maintain its position as a pioneer in the production of construction materials and real estate investment. Estate in Vietnam. In retrospect, outstanding events of Viglacera was marked by impressive numbers:
1. VIGLACERA – 45-year-journey of development, on this occasion, Viglacera was honored to receive the First-class Labor Medal for the second time
The 25th day of July 2019 was an important milestone when Viglacera Corporation had developed for 45 years. The journey was marked by generations of leaders and the collective of officers and employees who have established the foundation for the growth of Viglacera today. The 45-year-mark was a major change of Viglacera when embarking on a new turning point. Viglacera has become a leading manufacturer of construction materials and real estate in Vietnam, operating in all areas of the country and reaching out to international markets.

2. The milestone of State equity divestment to 38.85%, Viglacera Corporation operates under a new model, starting a new term of 2019-2024 with numerous huge turning points.
2019 witnessed the turning point of the Corporation, when the State equity structure has decreased to 38.85%. The operational model and management of the Corporation has been shifted to the model of a public company through regulations of management close to domestic and international companies with dominant production technology and management level. The new Board of Management and Supervisory Board of the Corporation was elected at the Annual General Meeting of Shareholders. Viglacera Corporation - JSC has started a new term 2019 - 2024 with huge great turning points.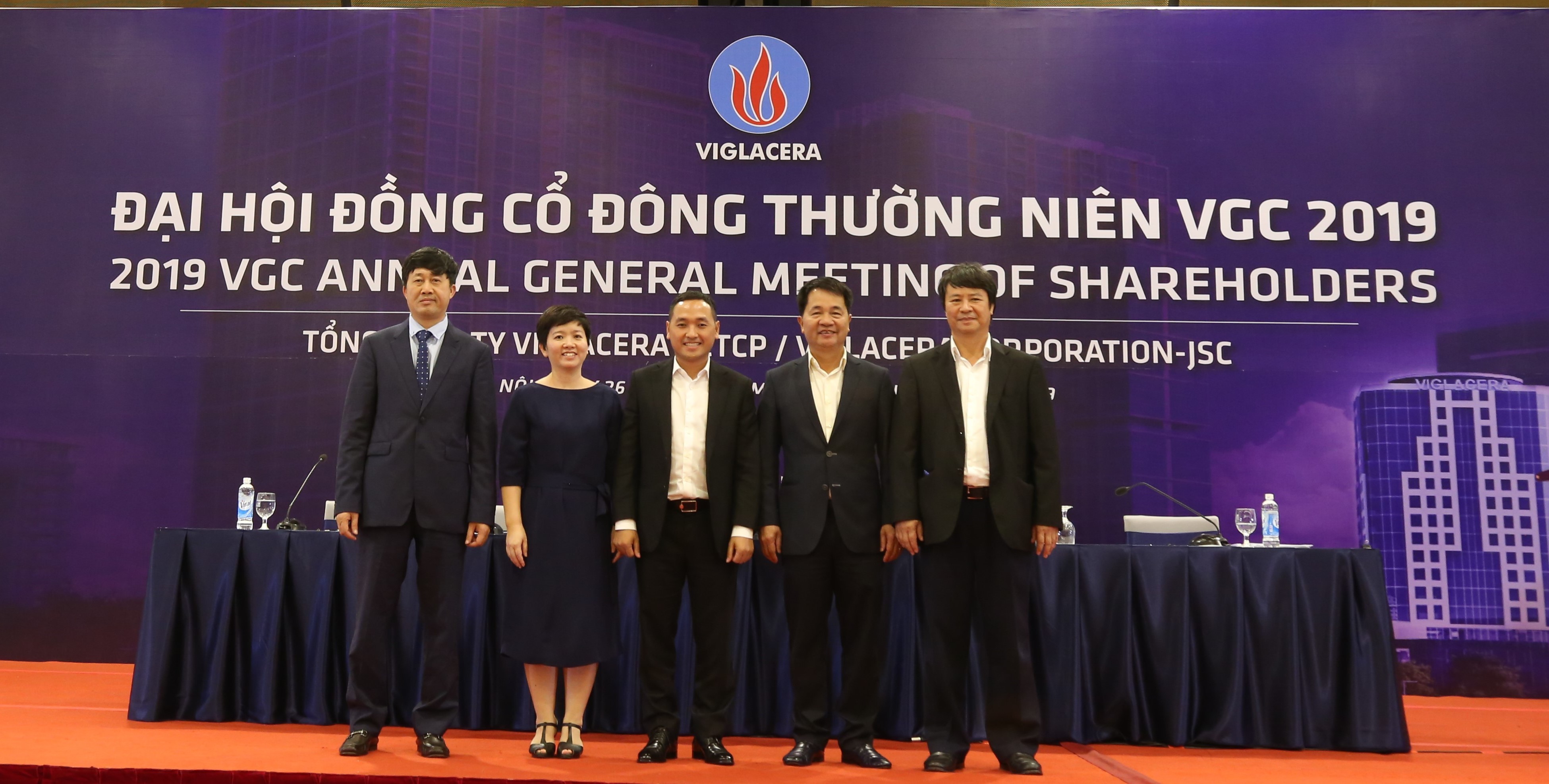 3. Viglacera officially listed VGC shares on HOSE
Following the Resolution of the General Meeting of Shareholders, on 29 May 2019, the stock code of Viglacera Corporation - JSC has officially been listed 448,350,000 shares on HoSE. This offers a good opportunity to raise capital, create resources for stable and sustainable development of the Corporation, however, transparency in governance is highly demanding, publicity and compliance are also required for higher standards of listed companies. Viglacera's strength, according to investors, is its large production capacity, especially on construction materials and real estate, valuable assets under its possession and healthy financial structure. Viglacera Corporation - JSC has been rated by the Enterprise Performance Assessment Program as one of the Top 100 Enterprises with the best financial management capacity index on Vietnam stock exchange.
4. The results of production and business activities in 2019 of the whole Corporation exceeded planned profit 2019 ratified at the General Meeting of Shareholders
The real estate market and construction materials in Vietnam in 2019 continued to face many difficulties and high competitiveness from domestic and foreign products. Taking the initiative before these incidents, Viglacera Corporation always has solutions to optimize internal capacity, coming up with new directions to enhance competitiveness and affirm its pioneering position. The production and business results of 2019 reached targets raised by the General Meeting of Shareholders, especially the parent company has shown the leading role with an estimated profit of VND 718 billion, exceeding 10% of the plan 2019. The consolidated profit of Viglacera Corporation - JSC was VND 955 billion, equivalent to 101% of the plan approved at the General Meeting of Shareholders, while the other index closely follows the targets set in 2019.
5. Honoured with "World Class" award for the first time - First prize in the Asia-Pacific International Quality Award GPEA 2019; Viglacera Corporation – JSC once again affirmed its efforts to reach out to the "large sea" gradually with many investment items on an international scope, built and proved its brand in the domestic and international market
In 2019, Viglacera won several prestigious awards: being honored with the National Gold Quality Award for the second time in 2019, being honoured with Strong Brand for the 11th consecutive time to in 2019, Top 50 most valuable brands in Vietnam 2019 (Brand Finance). With the orientation of building and implementing a sustainable growth strategy, Viglacera has been constantly striving to improve product quality, apply high technology and smart technology to research and develop "green", Environment-friendly products. Currently, not only does Viglacera brand secure a steady position in the domestic market but also gradually conquers markets in the region and in the world.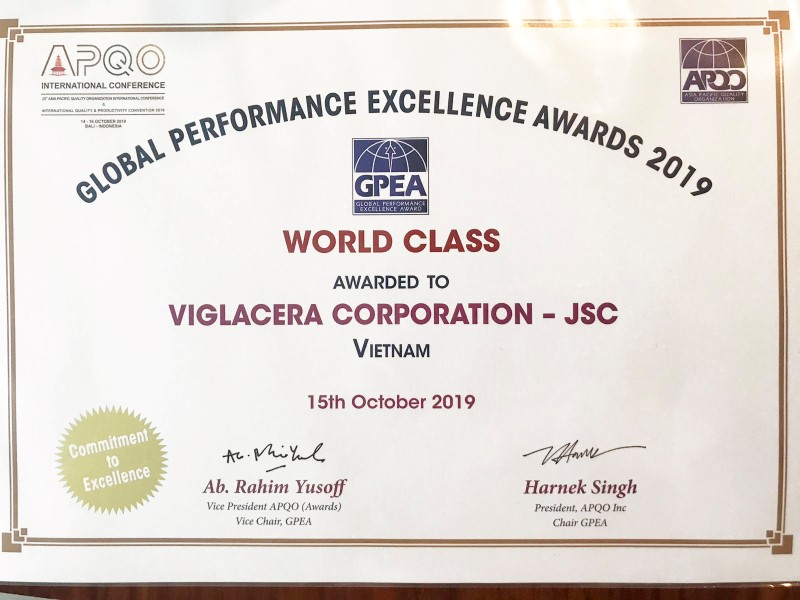 6. Viglacera launches the first specialized faculties in Vietnam: Faculty of construction glass - Faculty of ceramic tile - Faculty of construction - Faculty of construction ceramics, extensive training in human resource development.
The key to success is to invest in human elements, develop high-quality human resources - a decisive motivation for the development of the Corporation in the integration period. Therefore, in order to meet needs of human resources in the coming period, Viglacera College has consolidated its organizational model to implement the training and human resource development tasks of the Corporation effectively and provide human resources for the construction-material industry in Vietnam. Viglacera officially opened 04 faculties to provide training in construction materials: Faculty of construction glass - Faculty of ceramics tiles - Faculty of construction - Faculty of construction ceramics.
7. The inauguration ceremony of Viglacera Autoclaved Aerated Concrete Factory - State-level Science and Technology topic and the release of green technology products for modern construction
The production line for Autoclaved aerated concretes (AAC) blocks and Autoclave Lightweight Concrete (ALC) panels with a capacity of 200,000 m³/year is a project under the state-level science and technology topic: "Scientìic and technological Researches for designing, manufacturing equipment line, technology to produce AAC with capacity of 200,000 m3/year", chaired by Ministry of Construction and Ministry of Science & Technology. The project has been accepted and put into production.
The development of green materials, green buildings is an inevitable trend and of practically meaningful. The application and development of the project at Viglacera AAC factory is an imperative solution, which is the orientation of Viglacera's developing production technology for Green Building Materials in the hope of joining hands to build a "green real estate" market.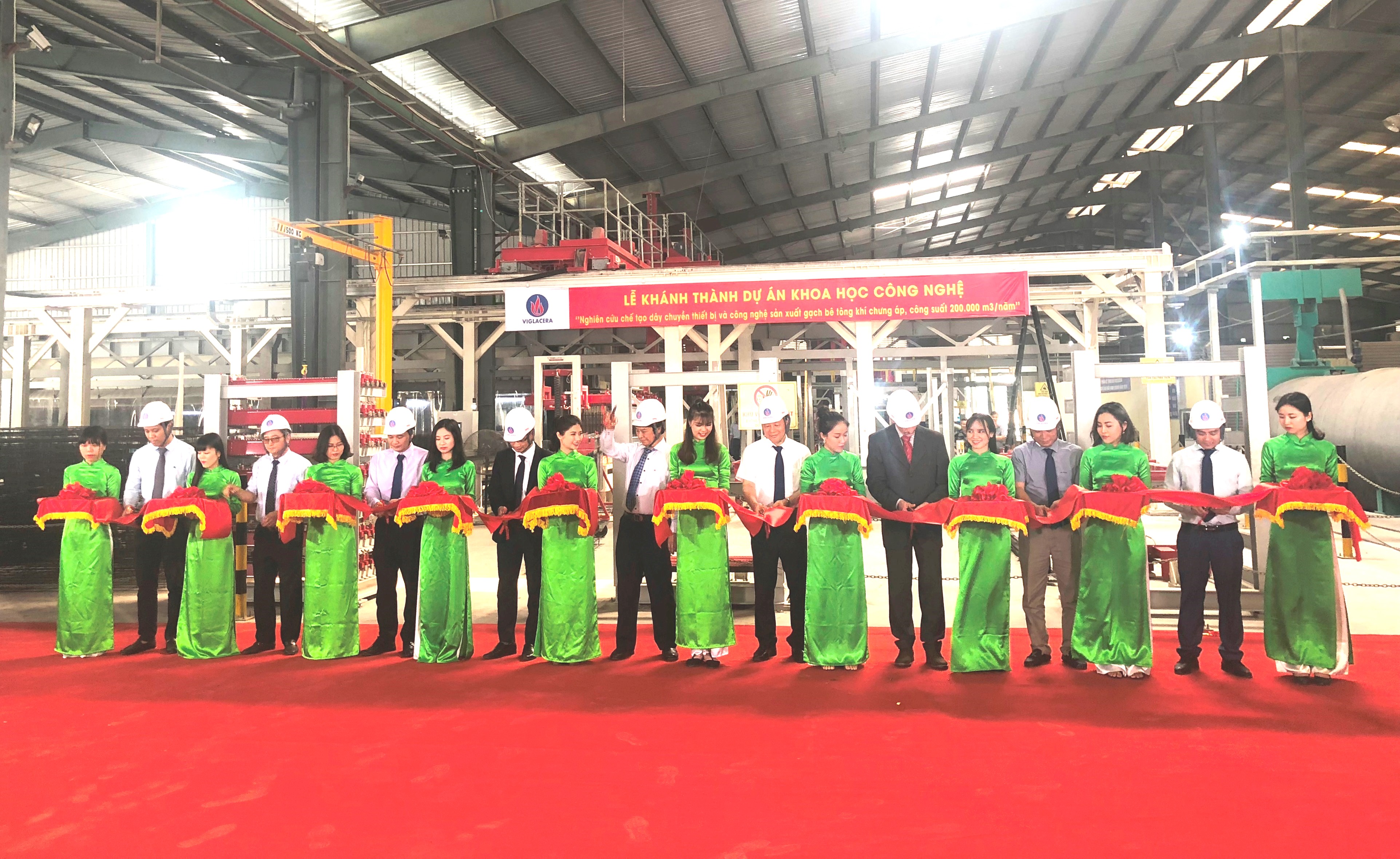 8. Developing new generation of ceramic tiles, expanding Viglacera Pro showroom system and centers nationwide
Viglacera has taken a step ahead to develop the first new product on the market: Viglacera platinum bricks 20mm and color-body bricks. In addition, the nationwide development of Viglacera Pro and Eurotile Center showroom systems has become a channel to introduce products to customers.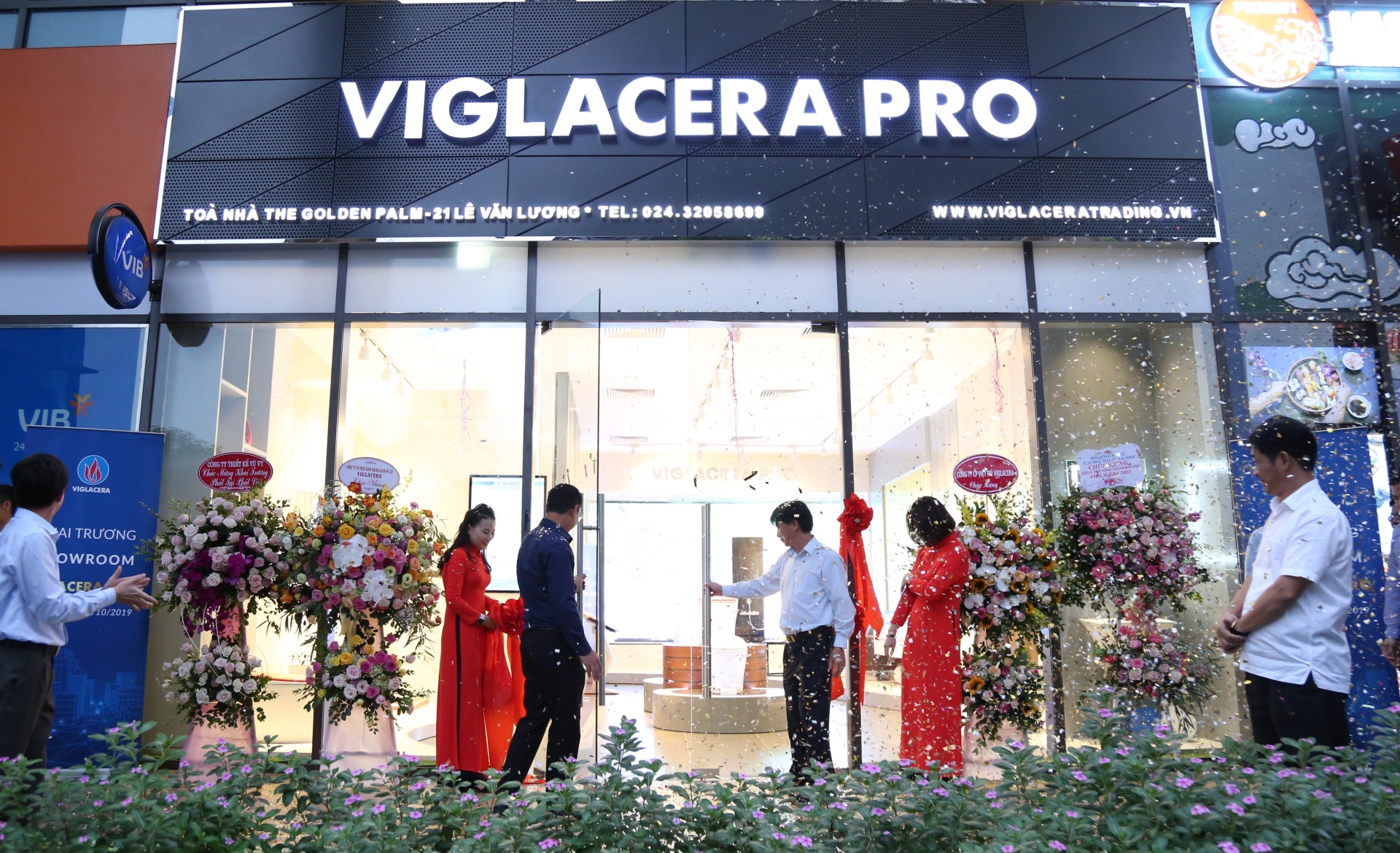 The exceptional development of ceramic tile manufacturing industry has gradually replaced double-charge technology with digital-printing and enamel-printing technologies to meet various needs of customers. Viglacera has pioneered to producte color-body bricks.
The product line "Viglacera Platinum 20mm" is the most noticeable among Ceramic tile group. Inspired by natural stones, Viglacera pioneered to introduce a collection of high-class Porcelain tiles PLATINUM 20 mm-thick. This is a breakthrough in the technology of manufacturing premium construction materials: the most durable, the best bearing capacity, well protective against harsh weather, waterproof, anti-slip, etc. and safe for users and environmentally friendly. PLATINUM 20 mm is also perfectly aesthetic. With neutral colors and fine-grained stripes, PLATINUM 20 mm brings uniformity of interior and exterior design and luxurious, long-lasting living space.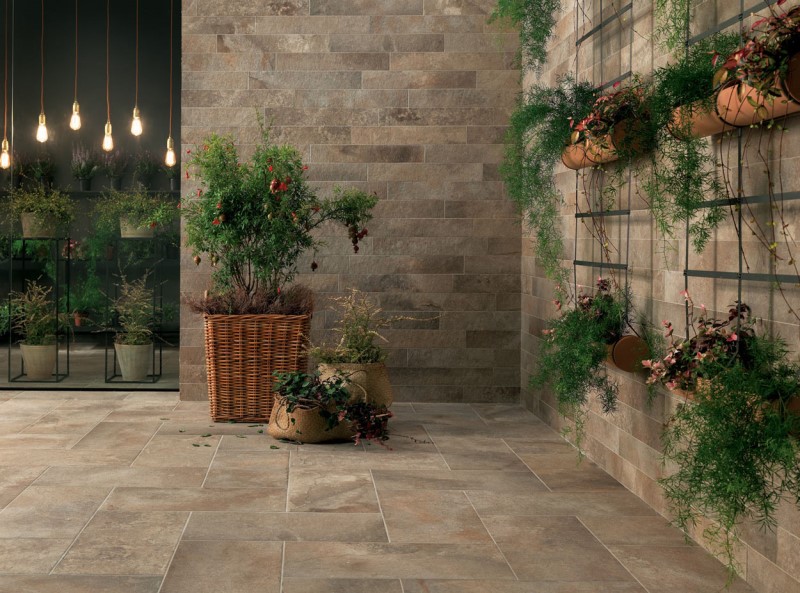 9. Santa Cruz Brick Factory under the management of SANVIG Joint Stock Company has started a production line of high quality ceramic and sanitary porcelain tiles in Cuba.
After more than one year of operation, the first ceramic bricks at Sanvig factory obtained high quality with various designs thank to the use of digital matte-coating – an advanced technology applied in the production of ceramic tiles in Cuba for the first time, Sacmi five-layer dryers, Sacmi modern roller kilns, etc.. Along with porcelain sanitary products, SANVIG-brand ceramic tile will be packaged immediately and available in the market and will be granted the honor to be in use of buildings that serve the celebration of 500-year-capital La Havana - Cuba.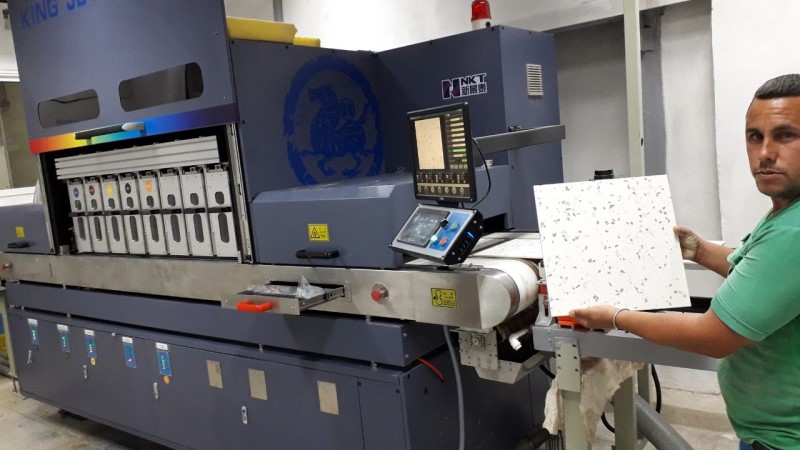 10. Inauguration of energy-saving glass processing factory
On 06 December 2019, Viglacera held the inauguration ceremony of Viglacera Energy-saving glass processing factory. With this project, Viglacera's glass processing technology would fully satisfy high-end demands in the field of "green" building construction, energy-saving and environmental friendliness. In fact, energy saving glasses (ESG) are popularly consumed in the world and are attracting concerns to put them in use in Vietnam. ESG require the following processing stages before being applied in the construction: tempering, lamination, insulation, etc.
Currently, there are a small number of factories in Vietnam that can process ESG, especially low-e softly-coated with two or three layers of silver. Understanding this importance, Viglacera has invested in an ESG processing factory in Yen Phong Industrial Park, Bac Ninh Province. The factory consists of a full convection-glass-tempering processing line and high-speed automation of insulating-glass processing line.
Viglacera offers a comprehensive product ranging from Low-E glass coatings production and energy-saving glass processing.