Innovent e.V Technology Development - Germany and Viglacera cooperates in technology know-how of Vietnamese glass coatings market
02:47 | 11/01/2017
Recently, Innovent e.V technology Development Germany has visited and worked with Viglacera at headquater of Viglacera - No1 Thang long Avenue - Hanoi. Shortly after the visit, the two parties signed the memorandum of understanding about cooperation in the field of glass coatings on the date of 11/01/2017 at Viglacera saving energy glass factory.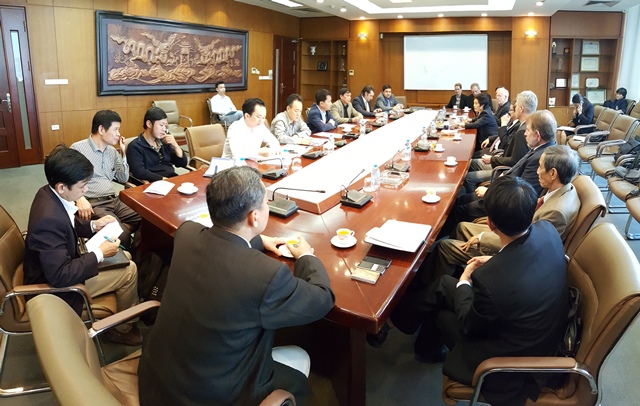 Innovent e.V Technology Development Germany visits and works with the Board of Directors of Viglacera Corporation JSC at head quater of the Corporation
Innovent coordinates with Viglacera on the basis of technological know-how with fair and reasonable costs for Viglacera in Vietnamese glass coatings market. In particular, Innovent will focus on training and support for Viglacera in the field of glass coatings such as Low-E, solar control glass and anti reflective glass (PV) for needs and applications in Vietnamese conditions; Cooperating in developing glass products at Vietnamese market based on suitable technologies; Developing with mid routine or longer with transnational projects funding by public budgets.
Innovent will cooperate with Viglacera to organise training courses for Viglacera employees with lecturers are experience experts of Innovent in the field of glass coatings. The first training course is intended to take place in May 2017. At the same time, Innovent will also advise the application of glass coatings for Vietnamese buildings. Researching and transfering the coatings suitable with climate of the North, the Central and the South of Vietnam.
The signing ceremony of the memorandum of understanding about the cooperation in the field of glass coatings between Viglacera and Innovent took place in 11/01/2017 at Viglacera energy saving glass factory
Innovent e.V Technology Development is non-profit association, capable, long experience and high quality experts working in five main research areas: surface technology, primer and chemical surface treatment; magnetic and optical system; Biomaterials; analytics and materials testing.
Innovent has about 140 employees working for. Innovent successfully deploys nearly 400 projects in total researching in 5 years, has more than 500 customers in industrial field, is the member of many professional associations, cooperates with universities and research associations as well as patent allowed in many areas.
Some other images in the signing ceremony of the memorandum of understanding between Viglacera - Innovent and images of delegation visiting Viglacera energy saving glass factory: