Large-format Tiles by Viglacera: A Smart Choice for Interior and Exterior Design
16:16 | 07/08/2023
Currently, the use of large-format tiles has become a prominent trend in modern architecture, widely applied in various large-scale projects with international standards due to their aesthetic appeal, superior functionality, and, most importantly, their environmentally-friendly nature - a "must-have" factor for contemporary architectural projects. Let's explore the concept of large-format tiles, their advantages, applications, and what sets Viglacera's large-format tiles apart in the market.
What are Large-format Tiles?
Large-format tiles are oversized ceramic tiles commonly used in various constructions such as shopping centers, restaurant lobbies, upscale hotels, expansive villa flooring, luxurious apartments, high-end resorts, and grand-scale projects. The breakthrough in their dimensions allows for a sense of expanded and modern space, enhancing the aesthetic appeal of the building.
Large-format Tiles - A Global Necessity in Modern Architecture:
Large-format tiles have long been present in world-famous constructions such as the Burj Khalifa tower in Dubai, the Pompidou Center in Paris, the Sydney Opera House in Australia, and the Shard building in London. These tiles possess superior advantages over traditional tiles in terms of functionality and versatility.
Currently, large-format tiles are increasingly popular in various projects, including shopping centers, restaurant lobbies, upscale hotels, grand villas, high-end apartments, resorts, and large-scale developments. In Vietnam, high-end villa projects have begun incorporating large-format tiles for wall cladding, flooring, and even decorative accents, adding character to spaces.
Applications of Large-format Tiles:
Flooring: Thanks to their large size, large-format tiles are ideal for flooring in villa living rooms, hotel lobbies, airports, and vast resorts, creating a standout, luxurious, and spatially-enhancing atmosphere.
Wall Cladding: With bold and well-defined stone patterns, Viglacera's large-format tiles are also used for façade cladding, TV unit areas, bathroom spas, and exterior wall cladding.
Interior Furnishings: Large-format tiles offer various possibilities, allowing for easy cutting and shaping into different sizes and forms, enabling the use of tiles in kitchen countertops, bar counters, and swimming pools, which were previously less commonly used for tiling.
Decoration: Interior designers can utilize one striking large-format tile with impressive patterns to create focal points, elevating artistic appeal and lifestyle style for homeowners.
Large-format tiles can be applied diversely in living spaces.
Advantages of Large-format Tiles:
It is no coincidence that large-format tiles have become an indispensable material in the architecture industry due to their exceptional advantages:
Expanding Space Scope: The versatility of large-format tiles reduces the number of visible joints, creating a seamless and spacious perception, contributing to a modern and elegant appearance for both interior and exterior designs.
Enhancing Durability: Large-format tiles possess high durability and a wide range of applications compared to traditional tiles, as they are resistant to damage caused by usage and environmental impact, thereby extending the lifespan and maintaining the beauty of the structure, resulting in cost-saving maintenance.
Environmentally-friendly: Modern production technologies and the PCR tile pressing method not only increase productivity but also minimize material waste to less than 3%. Moreover, an automated material recovery system helps reduce electricity consumption by more than 20% and avoids natural resource waste.
Increased Productivity through Easy Installation: Large-format tiles are easier to install and work with than traditional tiles due to their larger size, reducing time and effort during construction.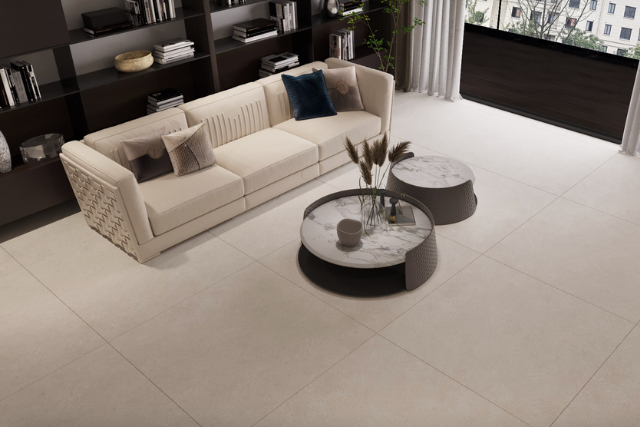 Viglacera's Large-format Tiles - The Reasons Behind the Distinction:
As a leading manufacturer of large-format tiles in Vietnam, Viglacera takes pride in being the sole producer capable of meeting the highest size dimensions, with thickness ranging from 6mm to 20mm, ensuring absolute durability even with large tiles and thin, lightweight sizes.
Since 2021, Viglacera has invested in a production line and dedicated time to research and develop various lines of large-format tiles, offering designs and functionalities that cater to the market's demands, boasting several superior advantages compared to natural stones and other similar materials, while also meeting criteria for price and output in the domestic market.
Large-format tiles open up endless creative possibilities for interior designers. Especially with patterns that simulate the beauty of natural stones such as marble, slate, granite, large-format tiles fully showcase their versatility, bringing a sense of spaciousness, sophistication, and luxury to spaces that no other type of tiles can replace.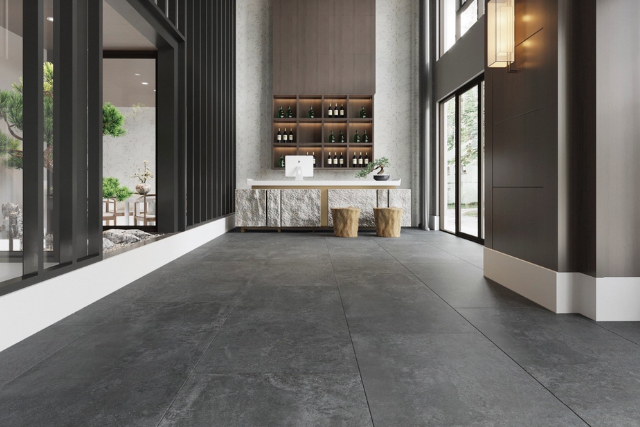 Viglacera's large-format tiles.
Leading-edge technology - Pioneering the way forward:
Viglacera, as a leading construction material manufacturer in Vietnam, has invested in advanced technology like Sacmi Continua+ since 2021. This step has created a green market for ceramic tiles, which was previously highly competitive in the domestic market, contributing to the sustainable development of modern construction projects.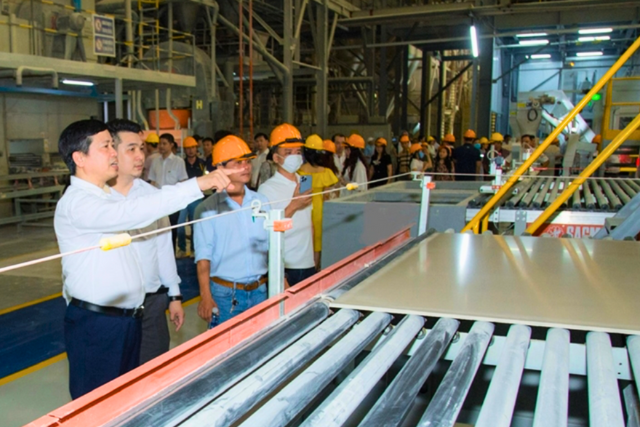 The Sacmi Continua+ production line at Viglacera Eurotile factory
Viglacera's large-format tiles apply the cutting-edge Sacmi Continua+ technology, with the Continuous Flat Press PCR (pressure intensity reaching 450 kg/cm2) being the key to producing large porcelain tiles and large-sized sintered stones with absolute flatness and superior product quality. Additionally, the use of modern digital printing technology with high resolution allows for a wide range of intricate graphic effects, colors, and exquisite decorations.
As a National brand, Viglacera's adoption of the Sacmi Continua+ technology represents a commitment to waste reduction and minimizing environmental impact during the production of large porcelain tiles and sintered stones. It is a clear testament to Viglacera's continuous dedication to innovation and significant contribution to the overall development of Vietnam's construction materials industry.
By raising production standards, Viglacera aims to become a world-class brand, on par with leading markets such as Italy and Spain. Notably, Viglacera's large-format tile products promise to offer Vietnamese customers a fresh experience and elevate their quality of life.