Vasta Stone and Hưng Thịnh Establish Strategic Partnership to Shape the Future of Natural Stone and Marble Market
17:30 | 09/08/2023
Hanoi, August 8, 2023, Vasta Stone, the leader in luxury sintered stone in Vietnam, and Hưng Thịnh, a top player in stone warehousing, are coming together in a special partnership. This exciting collaboration is all about bringing the elegance of sintered stone into the heart of homes and spaces across our nation.
This partnership between Vasta Stone and Hung Thinh is like bringing together two strong forces to create something amazing. Vasta Stone is famous for making top-notch sintered stone using cutting-edge SACMI Continua+ technology from Italy. Hung Thinh is a big name when it comes to bringing in natural stone and marble to Vietnam.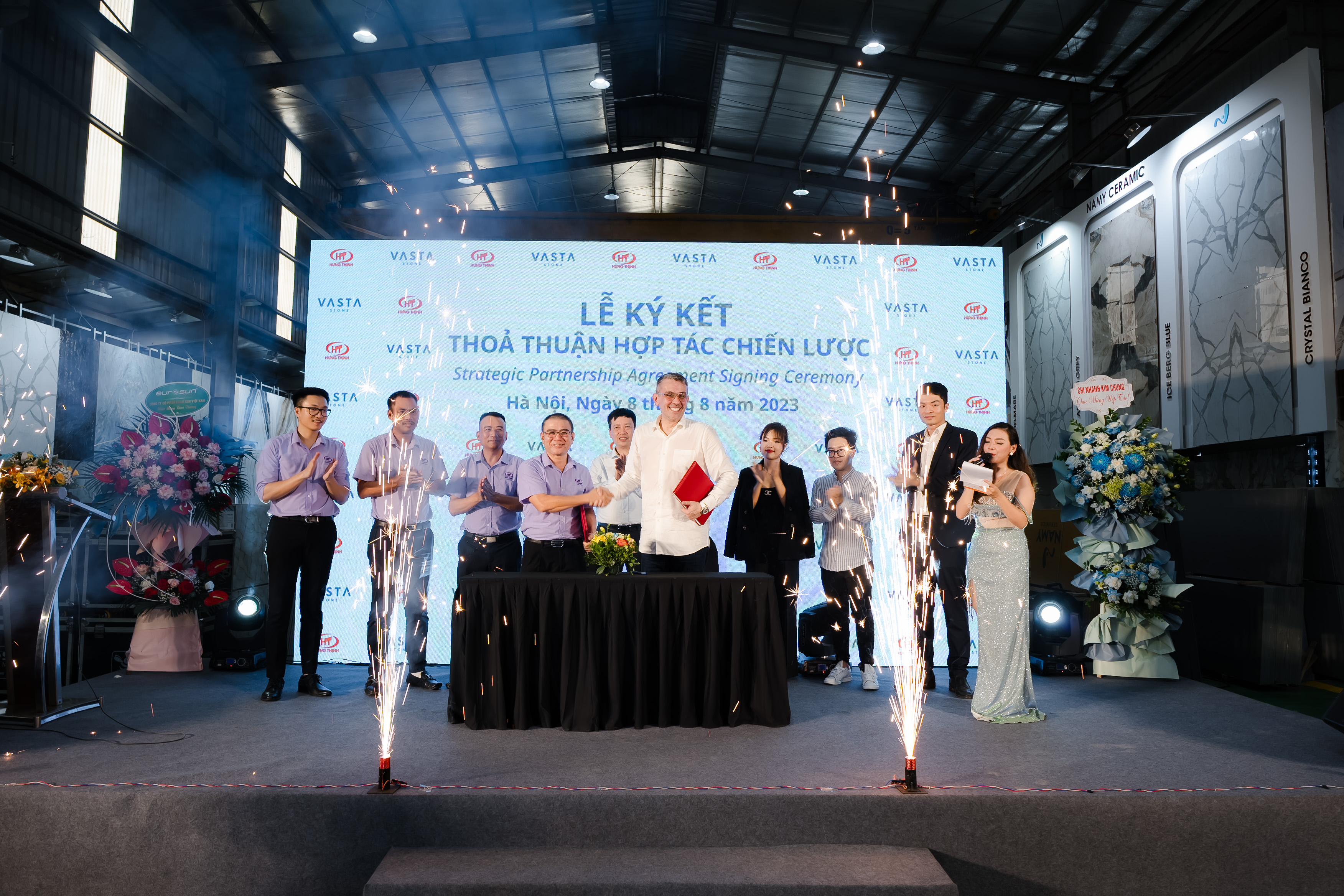 Representatives from Vasta Stone and Hung Thinh have officially signed the strategic cooperation agreement.
At the heart of this partnership is Hung Thinh's exclusive role in distributing the renowned 20mm Vasta Stone sintered stone within Vietnam's marble and natural stone market. Both Vasta Stone and Hung Thinh are excited to show off the elegance of luxury sintered stone to real estate investors, architects, and designers. They promise to offer a wide range of sintered stone types and designs to meet different tastes. This partnership is all about meeting the growing demand for eco-friendly building choices with a commitment that's clear every step of the way.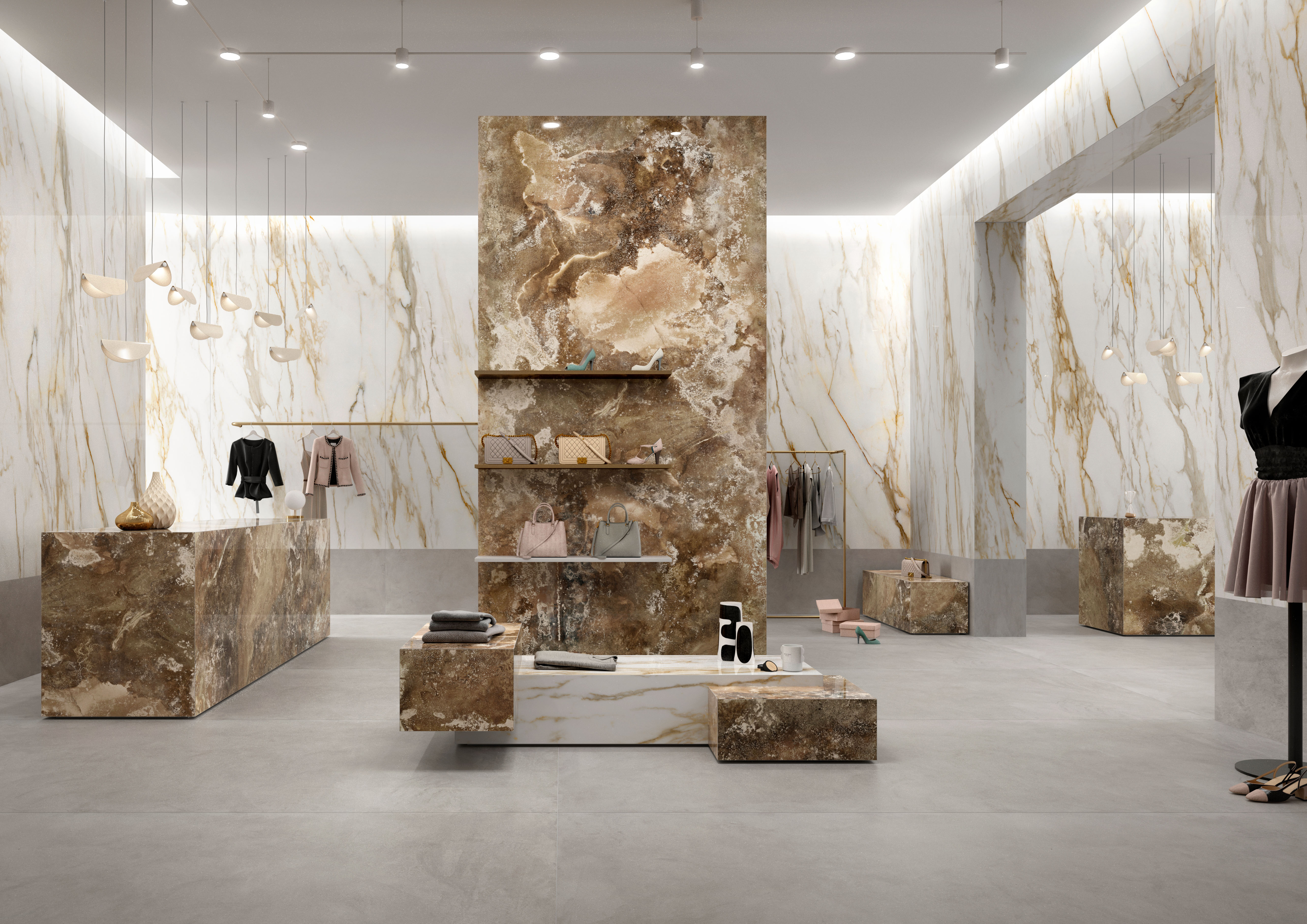 Vasta Stone brings together beauty and practicality in a whole new way, making sure it meets all kinds of styles and needs.
Speaking about this partnership, a representative from Vasta Stone shared, "Our teamwork represents what both Vasta Stone and Hung Thinh believe in – quality, uniqueness, and new ideas. Together, we're setting off on a journey to make sintered stone the top choice for stunning landscapes and beautiful interiors all over Vietnam."
Vasta Stone made a splash in 2022 by setting a higher standard for luxury building materials in Vietnam. Their sintered stone is made with care using advanced technology and eco-friendly methods. It captures the natural beauty we all love while being tough and needing very little care. This special stone is strong, resists stains and scratches, stays dry, and even stands up to fire.
Architects love how versatile this sintered stone is. It lets them get really creative, both inside and outside. And because it's so good for the environment, it's a step towards a future where we're kinder to nature. Sintered stone changes how things look and work to fit what people want, all while taking care of the planet.
Vasta Stone is manufactured using the world's most advanced production line, SACMI Continua+.
The Vasta Stone representative added, "Our partnership comes at a big moment, when people want building materials that's good for the planet. Both Vasta Stone and Hưng Thịnh are really serious about being eco-friendly and supporting green building projects. We're making a better path for the future."
This partnership not only makes Vasta Stone even stronger in the market, but it also makes the "Proudly made in Vietnam" sintered stone known around the world.
For more details, visit Vastastone.com or follow Vasta Stone on Vastastone Linkedin.