Viglacera at BCI Equinox 2023: Toward a Green Future with Net Zero and Energy Solutions
14:48 | 27/08/2023
On August 24, 2023, Viglacera participated in the BCI Equinox HCMC 2023 event at the Sheraton Saigon Hotel in Ho Chi Minh City. With the theme "Net-zero & Energy solutions"' the event garnered the interest and participation of over 1000 guests, including experts, investors, architects, and representatives from prominent construction industry companies. Among them, Viglacera was present as a speaker and panelist.

In the presentation at the event, Viglacera focused on introducing building material solutions with the criteria of being 'green in production' and 'green in use,' aiming to completely replace existing natural and traditional materials in the construction market. These products include 6mm thin wood-look tiles as a substitute for natural wood, 20mm thick stone-look tiles as a substitute for natural stone, aerated autoclaved concrete (AAC/ALC) replacing traditional red bricks, energy-saving glass optimizing electricity usage from air conditioning, as well as water-saving sanitary products that prioritize environmental protection and consumer health. With these solutions, Viglacera proudly stands as the first company in Vietnam capable of producing and distributing products in the domestic market and exporting to demanding countries such as the US and EU.

The green building materials that replace natural and traditional materials have been exported to numerous countries worldwide, meeting the strictest standards of international markets like the US and EU.

Representing Viglacera, Mr. Ranko Lukic - Chief commercial officer of Viglacera Corporation - stated that: Viglacera understands that pursuing the Net Zero goal is not only a corporate responsibility towards the environment and community but also an opportunity to enhance business efficiency, create high-value products and services, and meet market and customer demands. With a nearly 50-year history in the industry and laying the foundation for most existing construction materials in the market, Viglacera is highly confident in its development roadmap with green building material solutions "Proudly Made in Vietnam" contributing to realizing the Carbon neutrality goal by 2050.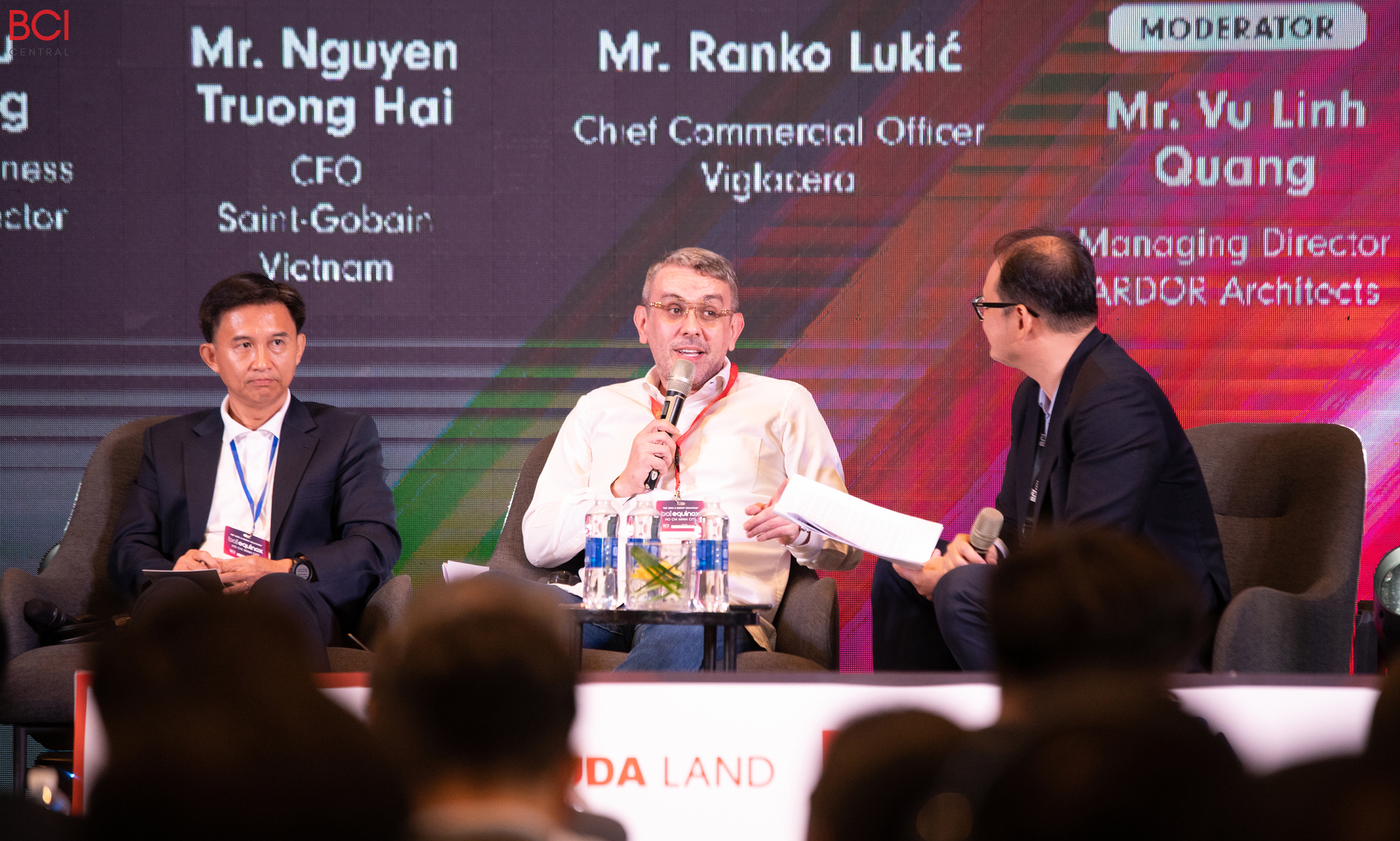 Viglacera believes in its proudly Vietnamese-manufactured building material products, aiming to achieve Carbon neutrality by 2050.

After the presentation and panel discussions, we received significant interest from partners and experts in the industry. This is an opportunity for us to share practical experiences and learn from peers about implementing 'Net Zero' solutions. We believe that connecting, sharing knowledge, and collaborating between businesses and experts are the keys to building a green future - a place where we can harmoniously coexist with nature and act for the sustainable prosperity of society.

The BCI Equinox 2023 event concluded successfully, leaving the attendees with good impressions and valuable information. This is one of the essential activities by BCI Asia to affirm the role of the construction industry in tackling climate change and promoting sustainable development. BCI Equinox is an annual event organized by BCI Central to create a platform for exchange and collaboration among designers, architects, developers, and construction material suppliers in the Asia-Pacific region. This year, BCI Equinox took place in two major cities of Vietnam, in Hanoi in April 2023 and in Ho Chi Minh City on August 24, 2023.

Additional images from the event: