Viglacera (VGC): Consolidated Profit of the Parent Company Achieves 143% of the August 2023 Plan
02:00 | 05/09/2023
On the morning of September 5, 2023, Viglacera Corporation - Joint Stock Company held a meeting to evaluate the results of its business operations in August, the accumulated results for the first 8 months of the year, and the implementation of plans for the remaining months of 2023.

Overview of the meeting

According to the report presented at the meeting, despite various market impacts related to fluctuations in raw material prices and financial factors, the production and business activities of Viglacera Corporation (VGC) have continued to perform well. The company achieved its consolidated profit target for the entire corporation since July 2023. In August 2023, the consolidated profit of the entire company continued to grow, reaching VND 150.9 billion, achieving 107% of the monthly plan and 121% of the 8-month plan for the year. Specifically, the Parent Company's profit reached 143% of the August plan and 117% of the annual plan for 2023.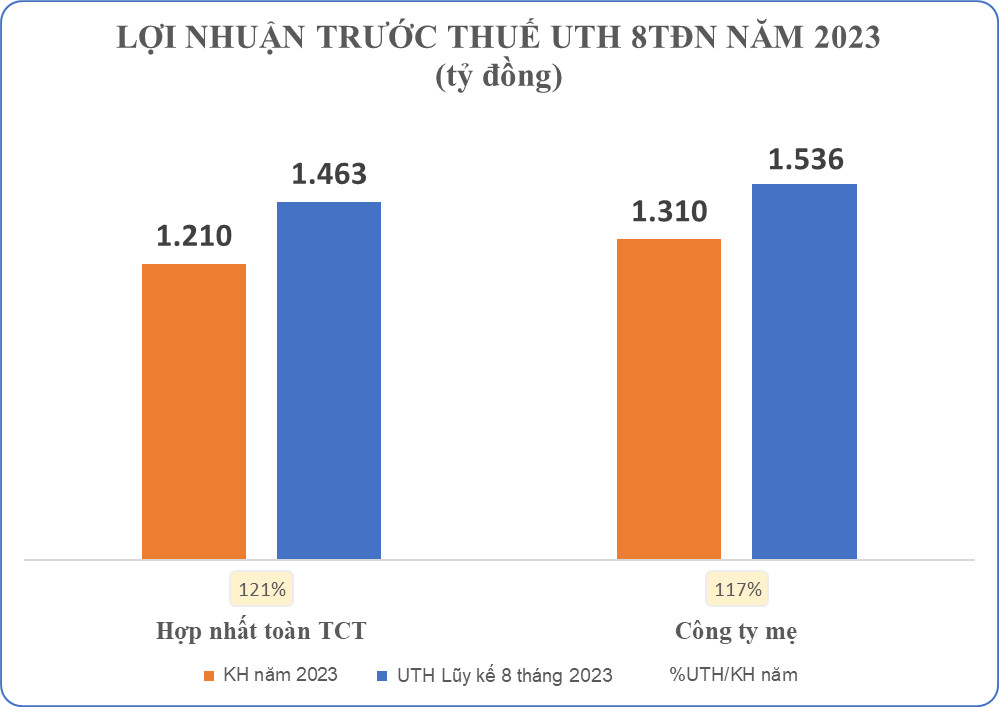 Profit before tax for the first 8 months of 2023 (in billion VND)
A significant contributor to Viglacera's business results is the Industrial Real Estate segment of the Parent Company, which continues to maintain its leading position. In the Construction Materials segment, there was outstanding performance in the export business, with remarkable growth, particularly in the Tiles category with a 134% increase and building glass with a 33% increase compared to the same period in 2022, surpassing the August plan for 2023, which was recognized and appreciated by the General Director.

In the final months of 2023, Viglacera will focus on intensifying its business activities, closely monitoring market developments, and investing in the development of new products in line with the direction of developing environmentally friendly building materials.

In the real estate sector, Viglacera will concentrate on infrastructure construction in industrial zones, including Thuận Thành I, Tiền Hải, Phong Điền, Phú Hà, and Hải Yên, to attract both domestic and international enterprises. It will also invest in constructing housing for workers and establish a one-stop support center for social housing projects for workers and laborers in industrial zones to facilitate access to information and registration procedures.

Additionally, Viglacera will proactively review its monthly production and business activities for each unit and member company to closely monitor market developments, be flexible, and actively plan production to increase business efficiency.

In a period where the market has not shown many signs of recovery and global and regional situations continue to be complex and unpredictable, with the results achieved in the first 8 months of the year, Viglacera is confident in continuing to manage its production and business activities, ensuring the completion of the 2023 Plan targets approved by the Shareholders' Annual Meeting, and laying the foundation for future development in the coming years.