Viglacera brings green material production solutions to Expo Architecture 2023 in Phu Quoc
05:00 | 08/09/2023
On September 8, 2023, in Phu Quoc City, Kien Giang Province, the Ministry of Construction, in collaboration with the Vietnam Association of Architects and the People's Committee of Kien Giang Province, organized the Architecture Integration and Development Exhibition 2023 (Expo Architecture 2023).
Participating in the event, Viglacera (VGC) introduced building materials produced on state-of-the-art global technology lines, along with solutions oriented towards "green in production" and "green in usage," completely replacing existing natural and traditional materials in the market.

The Minister of Construction's delegation visits Viglacera's green materials exhibition booth.

Among these, there are the latest products such as Slimtech 6mm thin tiles thickness capable of replacing natural wood, or Technical tiles 20mm thickness capable of fully replacing natural stone, which are well-suited for Phu Quoc's resorts and 4-5 star projects. Additionally, the sintered stone production technology can replace natural interior and exterior materials and is produced on the world's most modern Continua+ production line from Italy.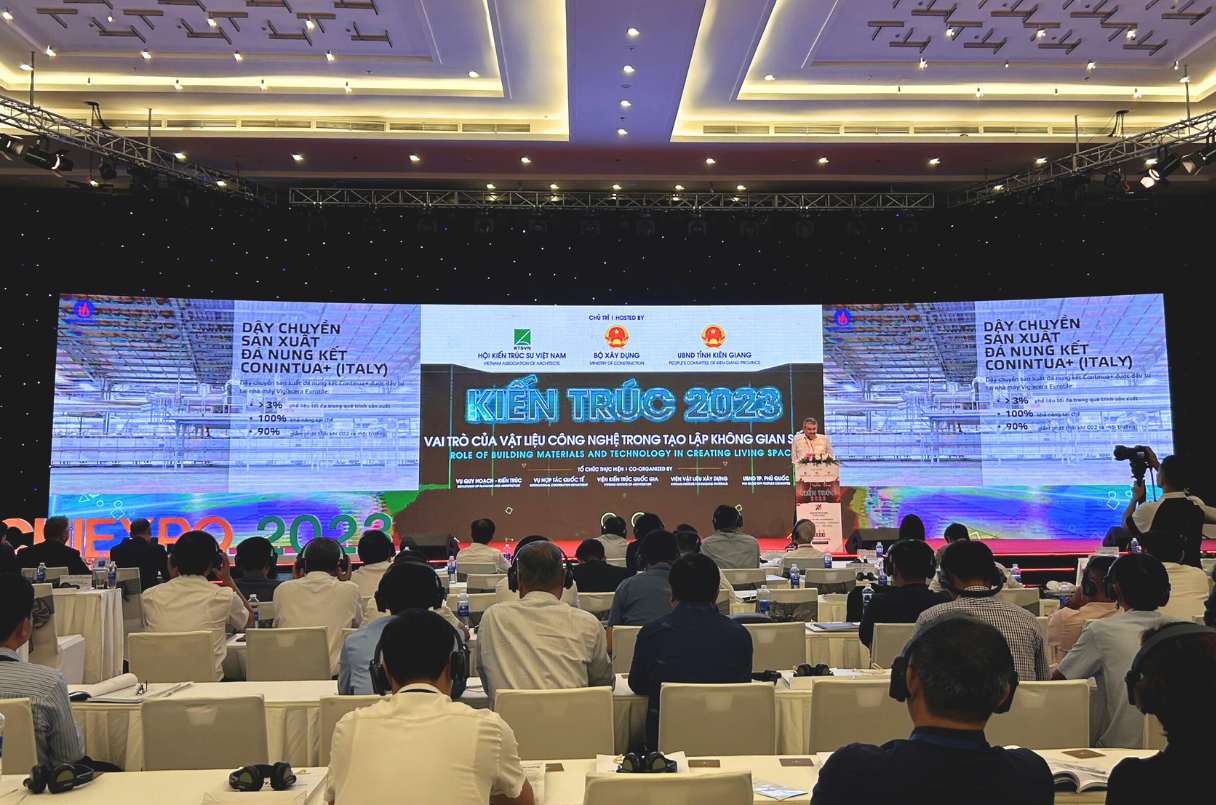 Viglacera is a leading enterprise in investing in the world's most advanced production lines to meet the demand for green products in the domestic and export markets.

Furthermore, Viglacera's other pioneering and distinctive products in the market include Autoclaved Aerated Cement Blocks (AAC and ALC panels) recognized as members of the Singapore Green Council (SGBC), replacing traditional tiles. Our energy-saving glass products can save up to 54% of air conditioning electricity and block 99% of ultraviolet rays, protecting the health of users and preventing interior fading. Viglacera's sanitary equipment is produced on modern production lines, researched and developed to minimize water consumption per flush and incorporate antibacterial glaze technology to protect user health and ensure a clean environment.
Viglacera is committed to producing environmentally friendly and cohesive building materials that protect consumer health.

Regarding Viglacera's direction in developing green building materials at the Expo Architecture 2023, a Viglacera representative stated: "For 49 years, Viglacera has been researching and developing green building materials. Above all, we understand the importance of building sustainability through green development and environmentally friendly building materials.
Viglacera is proud that all of its production technologies are modern and pioneering in the Vietnamese market, meeting stringent standards in strategic markets such as the United States, Italy, Germany, and more.
Currently, Viglacera's products are exported to over 40 countries and territories worldwide. With its current direction and advanced production technologies, with nearly 100% recyclability in the production process, Viglacera will make a significant contribution to carbon emissions reduction efforts and work towards the goal of achieving Net Zero by 2050.
About Expo Architecture 2023:
The Expo Architecture 2023 was organized for the first time in Phu Quoc City, Kien Giang Province, to convey the message of Vietnamese architecture's identity while demonstrating goals for sustainable urban management and development. The exhibition attracted more than 500 delegates, including central and local government representatives, policy makers, high-level representatives from project development, investment, consulting and design entities, architects, and industry-leading experts. It also provided a platform for exchanges and sharing of experiences in the fields of housing and architecture.